The Ministry of Foreign Affairs and Regional Integration has temporarily placed travel restrictions on persons from Isreal from visiting Ghana due to the spread of the Omicron variant.
In a press release dated Friday, December 17, 2021, the Ministry stated that the restriction is for a 14-day period and takes effect from Monday, December 20.
The statement added that exceptional humanitarian cases or official duties would be granted.
"Permission would have to be obtained from the Ministry of Foreign Affairs and Regional Integration in exceptional cases," it said.
Press Release. #GhanaMFA pic.twitter.com/EkNq2fmvvv

— Ghana MFA (@GhanaMFA) December 20, 2021
Read the full statement below: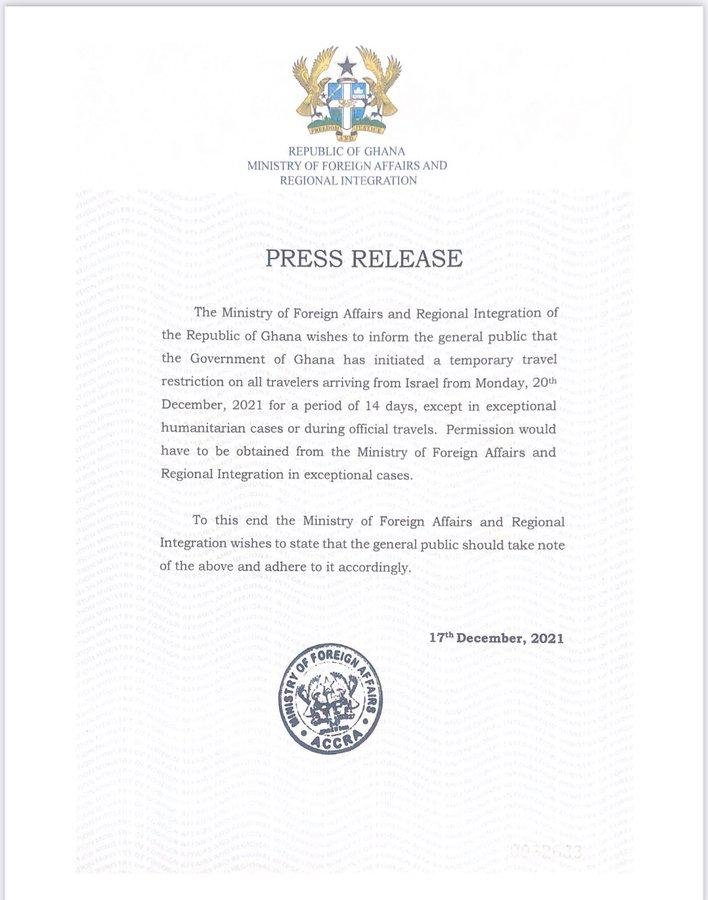 Source: MyGhanaMedia.com

Disclaimer: MyGhanaMedia is not responsible for this report and its content.There are four types of content published on MyGhanaMedia daily: curated content; syndicated content; user-generated content; and original content.