A primary five pupil has pleaded passionately with President Akufo-Addo to act with some sense of urgency in the fight against illegal mining, aka 'galamsey'.
Eleven-year-old Kelvin Nhyira Ansong begged the President to order the immediate deployment of soldiers and police officers to mining areas to ensure the arrest of persons polluting the 'natural' water bodies.
"Dear President Akufo-Addo, please I hope you are fine, but I am not fine. Last week, our Sir told us to watch some news on Joy TV. It was about some people who are doing 'galamsey' and spoiling all our natural water bodies.
"All the rivers have turned like This Way chocolate drink or groundnut soup. But our sir told us that water is colourless," he wrote.
"So please I want you to please send your soldiers and Police people to catch those who are spoiling the water so that the water will be colourless again and we can get some to drink," he appealed.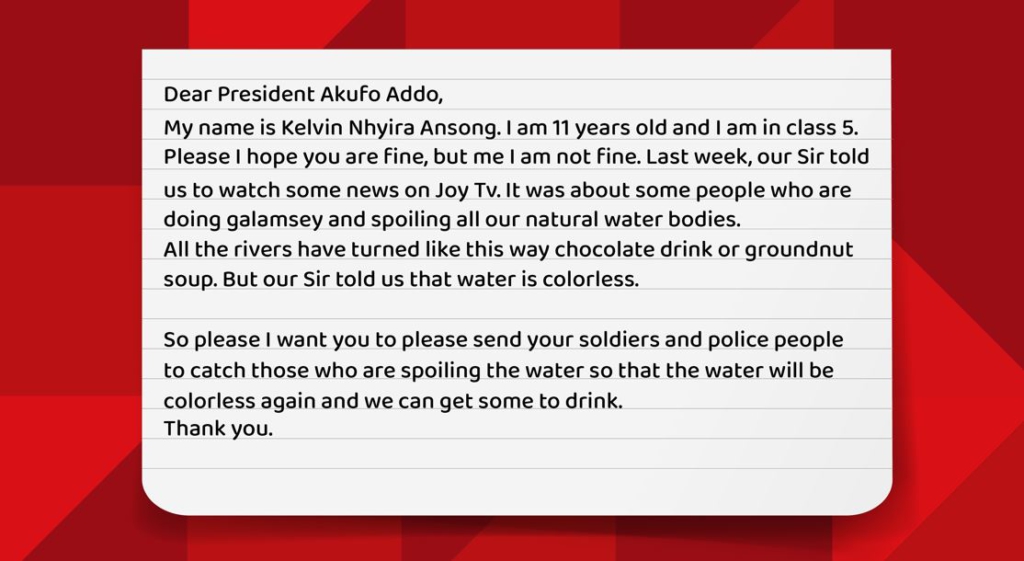 His call comes at a time of renewed talks about illegal mining in the country, following the re-arrest of 'galamsey' kingpin, Aisha Huang, on September 5.
After being gripped by the Police, many stakeholders have seized the opportunity to call on the government to institute stricter measures to make galamsey a thing of the past.
Addressing a gathering of Metropolitan, Municipal and District Chief Executives last week, President Akufo-Addo however stressed that his government is committed to rooting out the menace without fear or favour.
He said he will not shield anybody who is complicit in the act.
But a private legal practitioner, Martin Kpebu, has criticised the president, saying Mr Akufo-Addo's attitude towards eradicating the menace is "shameful."
Speaking on Newsfile on Saturday, he said the President is only paying lip service to the fight without any tangible actions.
"The President has checked out long ago. He's just now walking and enjoying the Presidency. Very shameful. You see why I said these things he's saying [are] very shameful.
"Is it not the same Nana Akufo-Addo who said he'll work with the Anas principle? And today there's even evidence; a tape", he told host Samson Lardy Anyenini.
Meanwhile, Deputy Lands Minister George Mireku Duker says the calls for the government to deal with galamsey must be devoid of politicisation and the pointing of accusing fingers at certain individuals.
He observed that Akufo-Addo's efforts towards ending the fight against illegal mining has been unprecedented.
"It would not take a day…it is not an event. Obviously, it is something that the struggle will continue, but for the interventions of this government, the situation would have been dire because I have practically been part of the solution structure that we have put in place as a government."
Thanks for reading from MyGhanaMedia.com as a news publishing website from Ghana.
Source:  MyGhanaMedia.com

There are four types of content published on   MyGhanaMedia.com daily: curated content; syndicated content; user-generated content; and original content.
Are You Suffering From Weak Erection, Low Libido, Premature Ejaculation Or Infections? – Get M-Plus No
  Maccun Plus (MPlus) is for men and women as a natural aphrodisiac with no side effects
Just contact the number below for M PLUS HONEY.
Send your news stories to my[email protected] and Chat with us via WhatsApp on +233 200818719