The 2022 edition of the National Science and Maths Quiz (NSMQ) has eventually gotten to the semifinal stage where the clash promises to be super thrilling and emotion-packed.
Nine Senior High Schools (SHS) will battle it out for a spot in the semifinals stage of the competition.
The national competition promises to be full of excitement and suspense judging from the preliminary stage fixtures to the quarterfinals and this stage will be a real decisive round of the competition.
At the end of the semifinals stage, the experienced, or strong participants will be separated from those who are not.
A key element of the NSMQ is claiming the bragging rights as national champions of Science and Maths.
Contestants look forward to winning so they can beat their chests and recount how they beat so and so school to win the trophy.
Here are the schools that will clash at the semifinal stage to show their bragging rights.
Abetifi Presby SHS
Mfantsipim School

Prempeh College
St. James Seminary
Kumasi High School

PRESEC-Legon
St. Augustine's College
Adisadel College
Opoku Ware School
The defending champions, Prempeh College will first compete with Mfantsipim School and Abetifi Presby at 9 am on Sunday.
Later at 12 noon, St James Sem, Kumasi High School and Presec Legon will have their turn.
The last contest of the day, which is much anticipated, will be among St Augustine's College, Adisadel College and Opoku Ware School.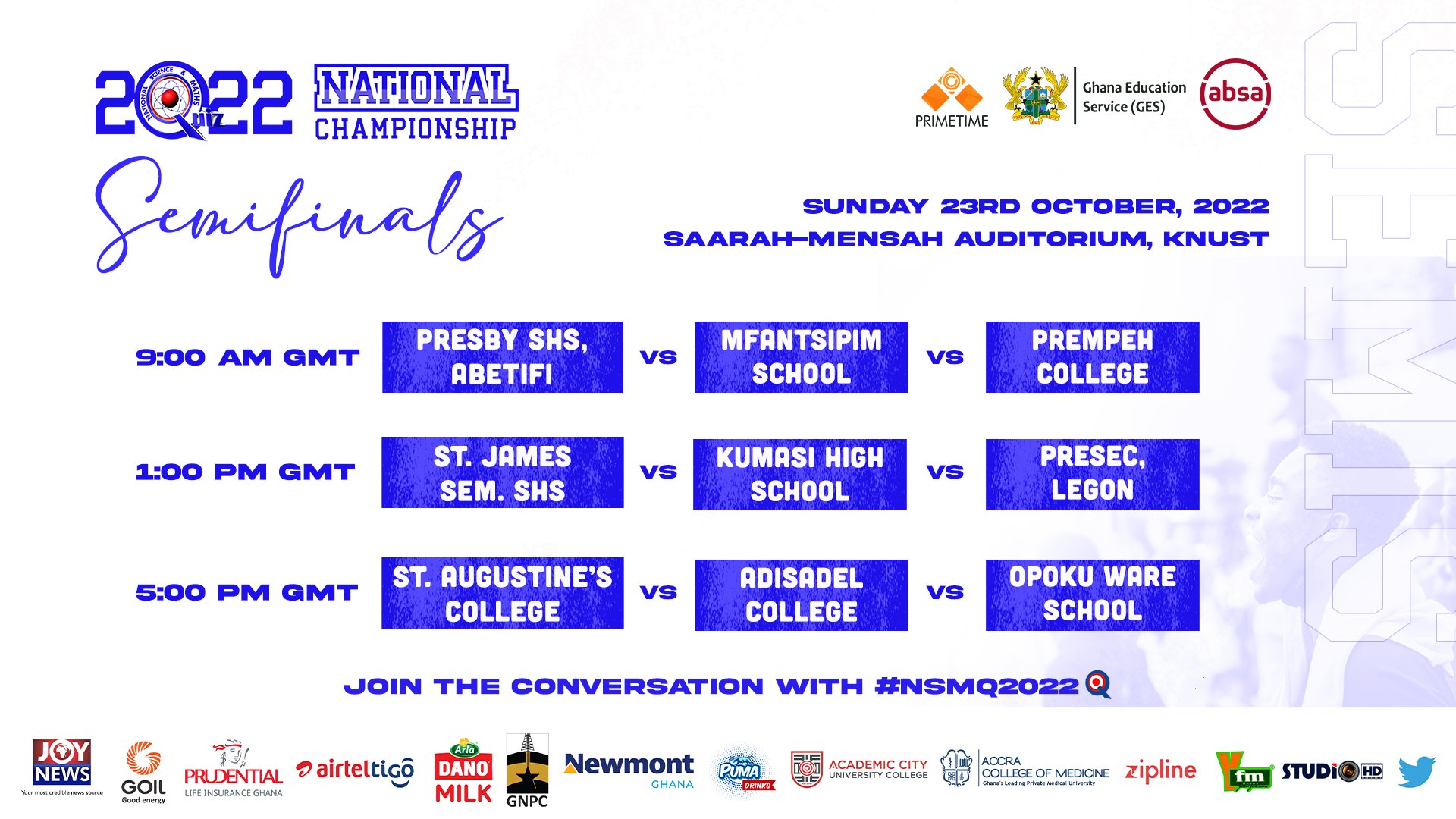 Winners from these three contest will fight to be the last man standing at the finale expected to take place during the week.
Thanks for reading from MyGhanaMedia.com as a news publishing website from Ghana.
Source:  MyGhanaMedia.com

There are four types of content published on   MyGhanaMedia.com daily: curated content; syndicated content; user-generated content; and original content.
Are You Suffering From Weak Erection, Low Libido, Premature Ejaculation Or Infections? – Get M-Plus No
  Maccun Plus (MPlus) is for men and women as a natural aphrodisiac with no side effects
Just contact the number below for M PLUS HONEY.
Send your news stories to my[email protected] and Chat with us via WhatsApp on +233 200818719