The Conference of Principals of Colleges of Education (PRINCOF) has asked the Ministry of Education to give Principals the mandate to ask students to cater for themselves effective November 7, 2022.
In a letter written on behalf of the Conference to the ministry, the Principals say the current market conditions have made it extremely difficult for them to feed teacher trainees, the reason they are asking for teacher trainees to take care of themselves.
According to the Principals, the GH₵6.50 per student for a three square meal daily is not enough, after a request for an upward adjustment of the feeding grant has not been approved.
Read below the full letter written to the ministry:
REQUEST FOR PERMISION TO ASK STUDENTS IN COLLEGES OF EDUCATION TO FEND FOR
THEMSELVES
I write on behalf of the Conference of Principals of Colleges of Education (PRINCOF), to see your approval for Principals to ask students to fend for themselves effective Monday November 7, 2022.
Principals of Colleges of Education have been trying really very hard to feed trainee teachers in recent times as a result of current market trends.
Prices of all tood items have shot up astronomically, and tood suppliers have retused to supply any tood items to Colleges because of the indebtedness of Colleges to these suppliers.
A request tor an upward review ot the feeding grant paid to Principals has not been approved, and it has therefore become increasingly difficuit for Principals to continue to provide three meals a day to students at Six Cedis, Fifty Pesewas (₵6.50).
In the light of the above, it is the wish of PRINCOF to be given permission to ask students to start fending for themselves.
This is to ensure that the already stretched academic year is not disrupted.
Counting very much on your approval.
Yours faithfuily
Dr. Harriet Naki Amui
(Executive Secretary- PRINCOF)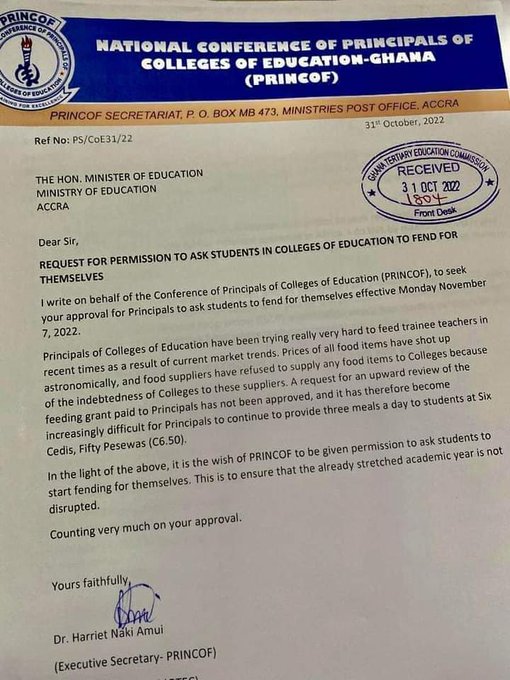 Thanks for reading from MyGhanaMedia.com as a news publishing website from Ghana.
Source:  MyGhanaMedia.com

There are four types of content published on   MyGhanaMedia.com daily: curated content; syndicated content; user-generated content; and original content.
Are You Suffering From Weak Erection, Low Libido, Premature Ejaculation Or Infections? – Get M-Plus No
  Maccun Plus (MPlus) is for men and women as a natural aphrodisiac with no side effects
Just contact the number below for M PLUS HONEY.
Send your news stories to my[email protected] and Chat with us via WhatsApp on +233 200818719