The subsidy on Residual Fuel Oil (RFO) has been suspended following a directive by the Ministry of Energy.
The suspension takes effect today, November 1, 2022, according to a statement signed by the Chief Executive Officer of the National Petroleum Authority (NPA), Mustapha Hamid.
The latest measure by the government is expected to ease the financial burden on the Price Stabilisation and Recovery Account (PSRA).
"The Policy directive takes into consideration the growing concern about the sustainability of the Account to meet under-recovery payment obligations for Premix Fuel and RFO," NPA said in a letter Informing the Industry of the suspension of the policy," the NPA said in a statement.
"NPA will therefore continue to compute and announce the price build-up (PBU) of RFO for each pricing window, as it has always done, to the industry," the letter signed by the Chief Executive of the NPA, Mustapha Abdul-Hamid stated.
Read the full statement below.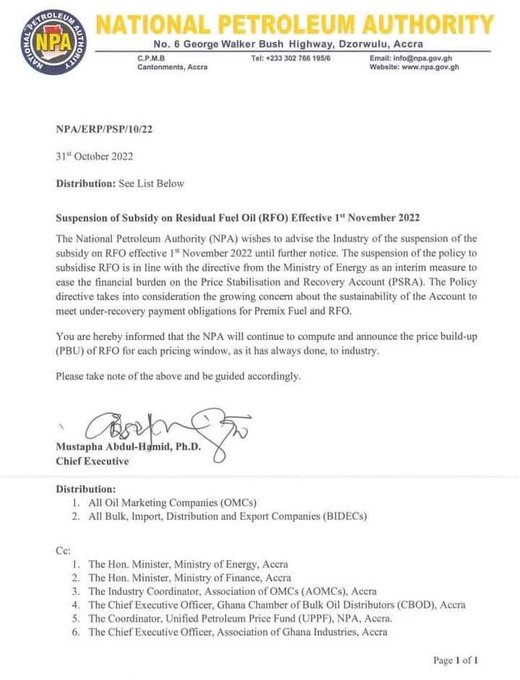 Thanks for reading from MyGhanaMedia.com as a news publishing website from Ghana.
Source:  MyGhanaMedia.com

There are four types of content published on   MyGhanaMedia.com daily: curated content; syndicated content; user-generated content; and original content.
Are You Suffering From Weak Erection, Low Libido, Premature Ejaculation Or Infections? – Get M-Plus No
  Maccun Plus (MPlus) is for men and women as a natural aphrodisiac with no side effects
Just contact the number below for M PLUS HONEY.
Send your news stories to my[email protected] and Chat with us via WhatsApp on +233 200818719