The Ghana Registered Nurses and Midwives Association (GRNMA), has resorted to strike at various hospitals after their request demanding the total removal of the Ashanti Regional National Service Scheme Director, Mr Alex Opoku-Mensah was not ignored.
Following Alex Opoku-Mensah's attacks on a Nurse at the Manhyia hospital, the Ghana Registered Nurses and Midwives Association called for his removal.
According to the Association, Alex Opoku-Mensah was not fit for purpose, hence their demand for his removal.
While the Ghana Registered Nurses and Midwives Association called for the dismissal of the Alex Opoku-Mensah, the GRNMA threatened that if Government does not remove the NSS Boss from Office before December 1, 2022, they will embark on series of activities.
But after an emergency meeting held by management of the National Service Scheme on Wednesday, November 30, Alex Opoku-Mensah was suspended.
Despite his suspension, GRNMA was not satisfied and therefore has directed its members to go on strike until their request is granted.
In a statement, GRNMA said, "In view of the fact that the 72-hour deadline given in our Press Release issued on 29th November, 2022 expires today, December 1, 2022, we require all leaders of our regional branches and all nurses and midwives to take note of the following:Friday, 2nd December 2022. – Manhyia Strikes, 2. Tuesday, 6th December, 2022, Ashanti region strikes if the Regional Director is still not fired.
It added,"3. Friday 9th December, 2022 – Nationwide Strike We expect National Service Scheme and government for that matter to sack Mr. Alex Opoku Mensah and we hope they do that without any further delay to avert disruptions in the nursing and midwifery services across the country."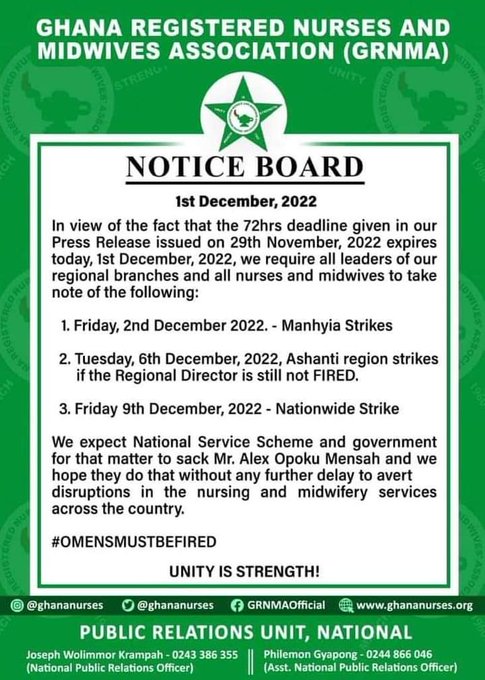 Background
Alex Owusu Mensah, bypassed the hospital's security to verbally assault the nurse on duty at the surgical department of the hospital.
In a viral audio, the man was captured saying he will use his political power to transfer the nurse in question from the hospital because the nurse had a phone confrontation with his daughter (A house Officer) who was supposed to be on duty but was nowhere to be found.
The nurse in an attempt to help a sick client called on the House officer to come and attend to the client's need with some prescribed drugs.
This got the house Officer and her family angry and they subsequently visited the hospital to teach the nurse some lessons.
Meanwhile, the Ashanti Regional NSS boss, Alex Opoku-Mensah, apologized for his conduct. In a statement, he said, "I understand the disappointment and appreciate the inconvenience my action has caused the general public as well as the nursing fraternity and Manhyia Hospital."
He continued, "This has never been my style, but for a genuine reason to mediate a persistent issue between my daughter(Doctor) and a colleague nurse who I as well consider my daughter."
"I do apologise for any mishap and assure all, there shall not be a repetition of such. I look forward to maintaining a cordial relationship between any affected person," he added.
Thanks for reading from TodayGhanaMedia.com as a news publishing website from Ghana.
There are four types of content published on  TodayGhanaMedia.com  daily: curated content; syndicated content; user-generated content; and original content.
Are You Suffering From Weak Erection, Low Libido, Premature Ejaculation Or Infections? – Get M-Plus No
  Maccun Plus (MPlus) is for men and women as a natural aphrodisiac with no side effects
Just contact the number below for M PLUS HONEY.
Send your news stories to [email protected]and Chat with us via WhatsApp on +233 200818719