The Ministry of National Security has debunked claims by the convenor of the #FixTheCountry Movement, Mr Barker-Vormawor, that he was offered money and appointments by officials of the Ministry to stop leading protests.
The National Security also challenged the Convenor of FixTheCountry Movement, Oliver Barker-Vormawor to produce evidence of an alleged attempt by the government to induce him and others with an amount of $1 million so they cease his "activism".
This follows Thursday's allegation by Barker-Vormawor that Cabinet promised them a million dollars if they could stop the #OccupyJulorBiHouse demonstrations.
Since they want it this way we will talk . The cabinet promised us $1 million if only we can stop the demonstration. We rejected!
Watch the video below:
credit: Joy News
In a statement issued on Friday, September 22, 2023, the Ministry said that some key members of the New Patriotic Party (NPP) government met Mr Barker-Vormawor in 2021, but at no point was an offer of money made to him to persuade him to give up his activism.
The Ministry also denied Mr Barker-Vormawor's claim that the National Security Minister, Kan Dapaah, threatened to ensure he and members of his group were arrested if they continued with their protests.
Below is the Ministry's statement.
This Ministry has taken notice of allegations made, in a viral post, by Oliver Barker-Vormawor, Convenor of the Fix the Country Movement, regarding a purported offer of $1,000,000.00 made to him by the Minister for National Security to compel him to cease his "activism".
While it is acknowledged that the Ministers for National Security, and Finance, and other relevant stakeholders, in 2021, engaged the convenors of the Fix the Country Movement to listen to their concerns, it must be stated emphatically that no offer of money or appointment was made to persuade the group to end its "activism".
The allegations made by Oliver Barker-Vormawor are thus false, unfounded, and a calculated attempt to hoodwink Ghanaians.
This Ministry, therefore, challenges him to produce the alleged recording of the said inducement. Meanwhile, the general public is urged to ignore the allegations and treat them with the utmost contempt they deserve.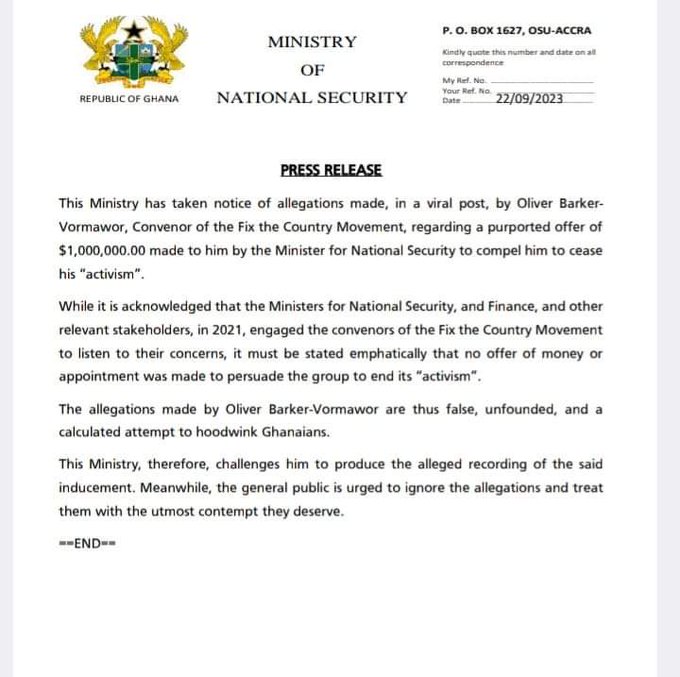 THANK YOU for constantly reading stories on MyGhanaMedia.com, a news publishing website from Ghana. Kindly like, follow, comment, and SHARE stories on all social media platforms for more entertaining updates!
Source:  MyGhanaMedia.com

There are four types of content published on MyGhanaMedia.com daily: curated content; syndicated content; user-generated content; and original content.
Send your news stories to my[email protected] and Chat with us via WhatsApp on +233 200818719