Commotion has erupted over the seating arrangement ahead of the dissolution of the 7th Parliament of the 4th Republic.
The Members of Parliament elected from the National Democratic Congress (NDC) occupied seats on the majority side of the House.
Earlier, the NDC MPs were seen taking the names of the NPP MPs, who initially occupied that side, off the desks.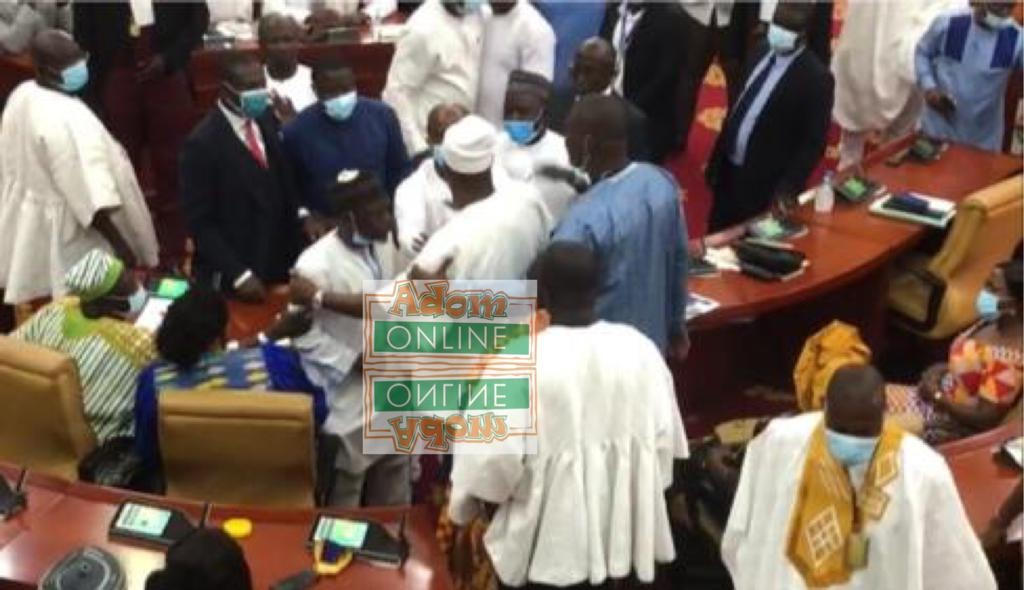 But the entrance of the MPs from the ruling party saw a complication as to the original structure of the house which had been changed because their name tags had been taken off by the Minority MPs.
At about 11:20 pm personalities from both sides were seen in a standoff on the floor among Ursula Owusu-Ekuful, A.B.A Fuseini, Bryan Acheampong among others.
Prior to the heated altercation, the Ablekuma West MP had occupied her seat despite the takeover of the majority side of the aisle by the NDC.
She insisted to sit in the area despite calls by the NDC MPs for her to vacate her seat and join her colleagues at the Minority side of the house causing a melee in the process.
The Communications Minister was backed by some members of the NPP's women caucus in the disruption which lasted for about 10 minutes after which some members called for cool heads to prevail.
Currently, calm has been restored in the House as the clock ticks towards a dissolution at midnight.
The dissolution will pave way for the inauguration of the 8th Parliament of the Fourth Republic and the investiture of Nana Akufo-Addo, the President-elect on January 7th, 2021.