President Akufo-Addo has charged Ghanaians to unite and free the nation from the economic arrangement designed by the country's former colonial power.
Taking to Twitter to commemorate Founders' Day on August 4, the President noted that such collective action is the best way the country can "pay homage to successive generations of Ghanaians who played significant roles towards the liberation of our country from colonialism and imperialism."
"We must, as a mark of reverence to our forebears, work to free ourselves from the economic arrangements designed by the former colonial power to serve its particular purpose at the time, which continue to bind us," he stated.
He also rallied for support to end the neo-colonial structure of the raw material producing and exporting economy.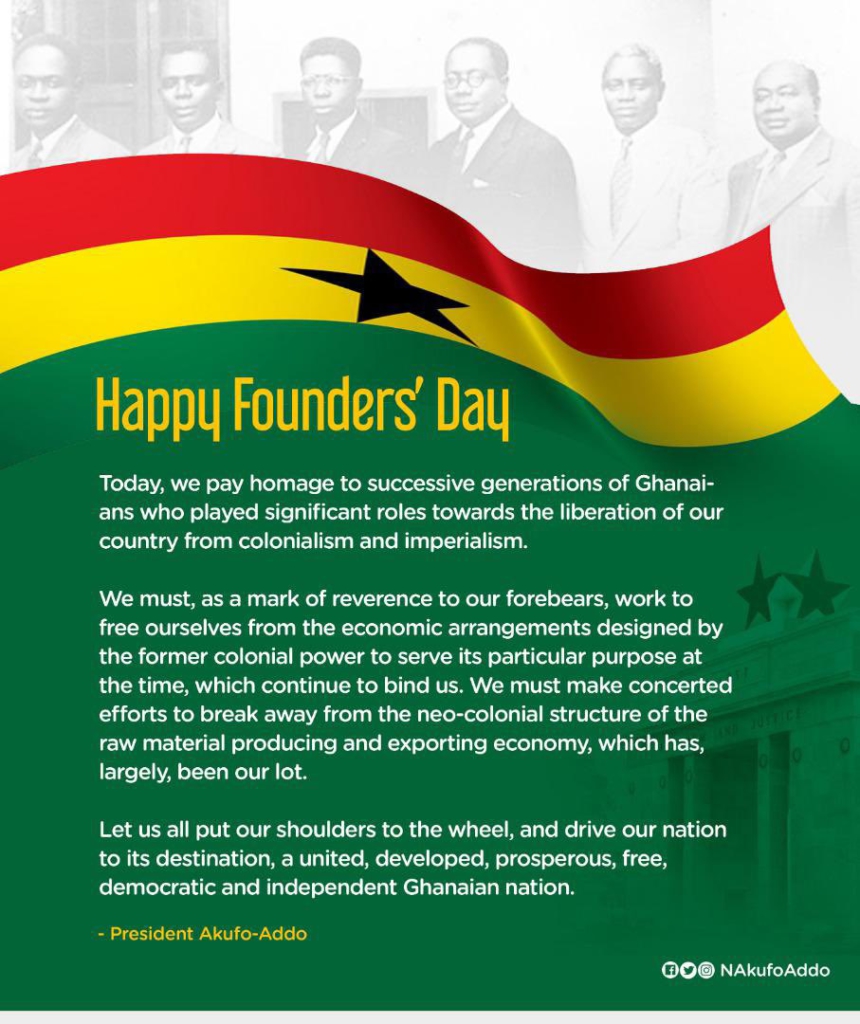 According to President Akufo-Addo, rectifying the economic structures of the colonial power will help drive the country to a "united, developed, prosperous, free, democratic and independent Ghanaian nation."
Previously, the country celebrated Founder's Day on September 21 annually, but was changed by President Akufo-Addo during his first term of office, to Founders' Day on August 4.
The day is set aside to celebrate the achievements of the men who led Ghana to independence. They are referred to as the Big Six.
The fallen heroes who make up the Big Six are; Kwame Nkrumah, Ghana's first President, Ebenezer Ako-Adjei, Edward Akufo-Addo, Joseph Boakye Danquah, Emmanuel Obetsebi-Lamptey and William Ofori Atta.
Source: MyJoyonline.com

Disclaimer: MyGhanaMedia is not responsible for this report and its content.There are four types of content published on MyGhanaMedia daily: curated content; syndicated content; user-generated content; and original content.
vote Mensah Francis (General Editor for MyGhanaMedia.com / MGM Tv Online) as Blogger / Program Producer / Male Presenter  of the year in the 2021 edition of Eastern Regional Media Excellence Awards.
a) Dial The Short Code:
*447*714# 
b) Enter Nominee Code
Categories Code Below: 
i. Blogger Of The Yeah Code : ER5
ii. Program Producer Of The Year Code: ER113
iii. Male Presenter Of The Year Code: ER24
Nominee Name: Mensah Francis 
NB: Please 2 categories has be targeted Blogger & Program Producer of the year .
C) Enter Numbers Of Votes:
Then follow The Prompt To Confirm Payment From Momo account.
Per vote cost 50ps and you can vote as many times you want.
Please if you can't go through the process and you want to support then please contact the number below.
Thanks for your support for making this dream to come to pass.
contact:  0200818719