Hon. Benjamin Narteh Ayiku, Member of Parliament for Ledzokuku Constituency and member of Parliament's Food, Agriculture, and Cocoa Affairs Committee, celebrated his birthday in a totally unique way at his backyard livestock and poultry farm.
The day unfolded into a series of engaging activities, showcasing the vibrancy of the livestock and poultry farm. Guests had the opportunity to tour the farm to appreciate modern farming techniques, biosecurity measures, and animal welfare practices. It was truly a hands-on experience that educated and inspired all those present. Hon. Ben Ayiku has Chickens, turkeys, geese, ducks, guinea fowl, and quails in his poultry farm, as well as cattle, sheep, and goats in his livestock farm.
The birthday celebration not only marked a milestone in the politician's life but also showcased his dedication to agriculture and community development through a remarkable backyard farm project.
The celebration, held at Hon. Benjamin Narteh Ayiku's estate, featured a festive atmosphere as well as an opportunity for attendees to witness firsthand the MP's passion for nurturing and supporting local agricultural initiatives. Among the highlights of the event was the feeding of poultry and livestock, a symbolic gesture that emphasized the importance of sustainable practices in the farming sector.
With a longstanding commitment to promoting self-sufficiency and economic empowerment within the Ledzokuku constituency, Hon. Benjamin Narteh Ayiku has actively sought innovative ways to encourage local farmers and boost agriculture. By incorporating a functional backyard farm into his own estate, he is setting an outstanding example for community members and illustrating the potential for growth at an individual and community level.
As news of the event spreads, it is clear that Hon. Benjamin Narteh Ayiku's dedication to agriculture and community development has struck a chord with residents and community leaders alike.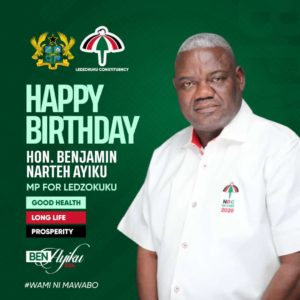 In light of this extraordinary birthday celebration, it is evident that Hon. Benjamin Narteh Ayiku's contributions extend far beyond the political sphere. His commitment to nurturing sustainable agriculture and empowering his community is an invaluable asset that stands as a benchmark for other public figures.
THANK YOU for constantly reading stories on MyGhanaMedia.com,  news publishing website from Ghana. Kindly like, follow, comment and SHARE stories on all social media platforms for more entertaining updates!
Source:  MyGhanaMedia.com

There are four types of content published on MyGhanaMedia.com daily: curated content; syndicated content; user-generated content; and original content.
Send your news stories to my[email protected] and Chat with us via WhatsApp on +233 200818719