A British Member of Parliament (MP) has been suspended for alleged racist comments against British-born Ghanaian MP, Kwasi Kwarteng, who was recently appointed UK's Chancellor of the Exchequer or what in other countries if referred to as Finance Minister.
Though the MP, Rupa Huq, has since apologized, the Labour Party describes her action as condemnable and totally inappropriate.
In audio published online, by by the Guido Fawkes website, Ms Huq, who is MP for Ealing Central and Acton, is heard discussing the Chancellor's private school background. She also added …"you wouldn't know he is black" when listening to him on the radio.
This is racism pure and simple from @RupaHuq. https://t.co/TCREdDCCBe

— Julia Hartley-Brewer (@JuliaHB1) September 27, 2022
The embattled MP is said to have made the disparaging remarks on the sidelines of a Labour Party conference in Liverpool on Monday.
A Labour party spokesman confirmed she had had the whip removed on Tuesday afternoon.
The spokesman said: "We obviously condemn the remarks she made, they are totally inappropriate and we would call on her to apologise and withdraw them."
Rupa Huq has since apologized. In a post on social media indicated she claimed she had contacted the UK finance minister to render an unqualified apology.
Keir Starmer must act over Rupa Huq's digusting comments at #LPC22 about the Chancellor.

"Superficially he is a black man" because he's Conservative is a vile thing to say. pic.twitter.com/DtVwYSNN6N

— Jake Berry MP (@JakeBerry) September 27, 2022
"I have today contacted Kwasi Kwarteng to offer my sincere and heartfelt apologies for the comments I made at yesterday's Labour conference fringe meeting.
She added …"My comments were ill-judged and I wholeheartedly apologise to anyone affected,"
Other MPs have joined the condemnation and are demanding further punishment.
Kwasi Kwarteng became the first black person to become UK's Chancellor of the Exchequer (Finance Minister) following his appointment by UK Prime Minister, Liz Truss, on September 6, 2022.
He was Akwasi Addo Alfred Kwarteng in Waltham Forest, East London, in May 1975 to Ghanaian parents, Alfred and Charlotte, who had both immigrated to the United Kingdom a decade earlier as students.
His parents, who went on to become an international economist and a barrister respectively, sent him to an expensive private prep school that produced numerous Cabinet-level politicians. He then attended the famous Eton college — a production line for British leaders including Boris Johnson and David Cameron.

Read the full statement below: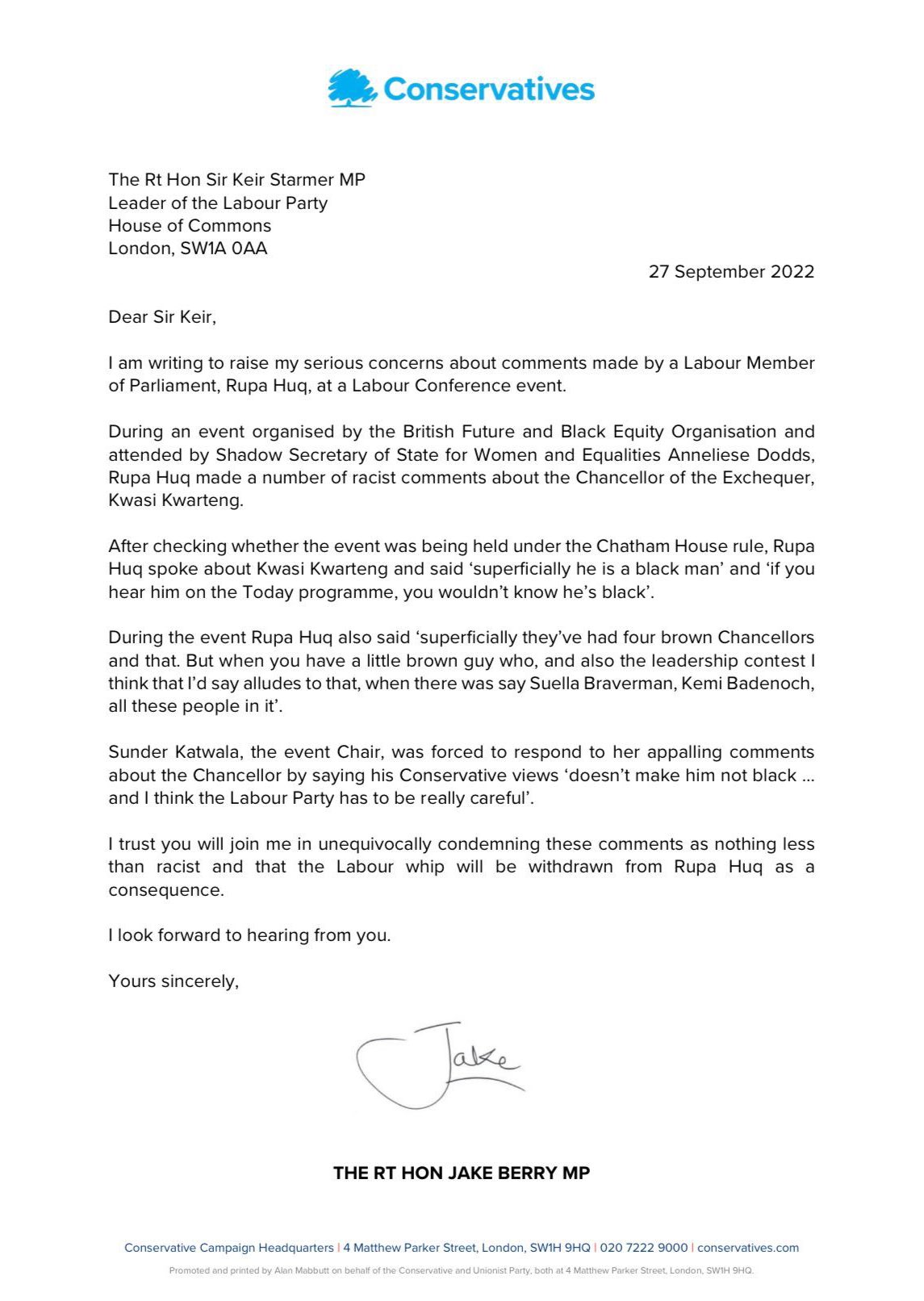 Thanks for reading from MyGhanaMedia.com as a news publishing website from Ghana.
There are four types of content published on   MyGhanaMedia.com daily: curated content; syndicated content; user-generated content; and original content.
Are You Suffering From Weak Erection, Low Libido, Premature Ejaculation Or Infections? – Get M-Plus No
  Maccun Plus (MPlus) is for men and women as a natural aphrodisiac with no side effects
Just contact the number below for M PLUS HONEY.
Send your news stories to my[email protected] and Chat with us via WhatsApp on +233 200818719