A Ghanaian chartered accountant who is aspiring to be the parliamentary candidate in the upcoming NPP primaries is confident of stealing the Ledzokuku Constituency seat from the incumbent NDC, Mr. Benjamin Narteh Ayiku, if given the shot to lead the party.
The former 2nd vice chairman of the constituency believes he has what it takes to bridge the political divide and win the seat in the 2024 elections and has urged delegates to support him.
Bridging the political divide between young people and political parties necessitates creative strategies that recognize the valid concerns of young people, he explained.
Mr. Clifford says that because it is necessary for political parties to meet young people where they are, he would do so in order to better understand the trends and identify critical ideas for strengthening connections between young people and the party.
In an interview with Daily Searchlight/MyGhanaMedia.com after picking up and submitting the nomination form at the party's office, Clifford Martey Korley told the gathering that his confidence to pick up nomination forms was inspired by the party's rank and file in the constituency.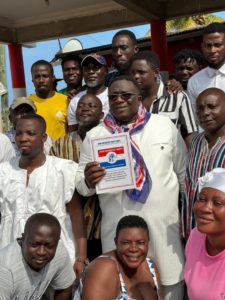 He believes that the party faithful have confidence in and trust him.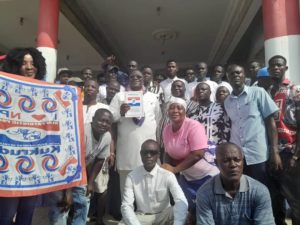 He also assures that he will bring in accountable leadership to guarantee their (constituents) concerns are heard in parliament.
Supporters
Clifford Martey Korley and his party supporters walked through the streets of Teshie-Nungua to demonstrate their intentions and bring more people closer to his cause for victory.
The supporters were all dressed in party colors, confident that their chosen aspirant would make a significant impact and finally win the primary.
They also sang victory and party songs, encouraging the contenders to win and represent them in the parliamentary elections.
NPP Parliamentary & Presidential Primary
On July 11, 2023, the New Patriotic Party (NPP) opened nominations for parliamentary primaries in areas where the party has no representation.
The nomination period will end on Thursday, August 10, with elections scheduled from September to December.
According to the party, male aspiring parliamentary candidates must pay a non-refundable filing fee of GH₵35,000, while women and those with disabilities pay half of the fee.
Aspirants have been asked to follow the party's constitution and use the proper mechanisms to channel any issues that may arise.
Clifford Martey Korley's Profile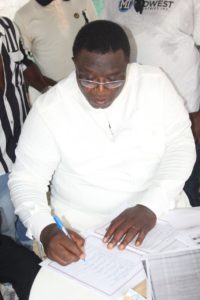 Clifford Martey Korley, a Ghanaian chartered accountant, has made significant strides in various fields, including finance, entrepreneurship, and philanthropy. Born on July 26, 1980, in Teshie, Greater Accra Region, he hails from a family with a strong educational background.
Education and Professional Background:
Martey Korley began his educational journey at Ford Preparatory School, which was owned and managed by his father. He completed his primary education there before transferring to Soul Clinic International School in Accra in 1993, where he obtained his junior high school certification in 1995.
He then attended Presbyterian Boys Senior High School in Legon, graduating with a Senior High School Certificate in 1998. In 2002, he gained admission to Valley View University as an undergraduate student. Furthering his studies, he pursued ACCA and MSC degrees at Southbank University in London, completing his ACCA in 2005 and his MSC in 2007. He later obtained a PhD from IPAG Business School.
Family Life:
Clifford Martey Korley is happily married to his long-time school sweetheart, Ellen Korley. Together, they have four children: Loriann Martekei Korley (born August 12, 2007), Mael Marmah Korley (born January 8, 2010), Samuel Korley Martey (born January 8, 2014), and Clifford Boye Martey-Korley (born January 12, 2019).
Real-Life Experience and Achievements:
Martey Korley has worked as a financial manager in the Chief Financial Officer (CFO) capacity for several companies in the energy, oil, and gas sectors. He has also held the position of general manager at multiple energy companies. Currently, he serves as the manager of a new aviation company and is also the board chairman of Nursing and Midwifery Training College, Teshie.
In addition to his role as a chartered accountant, Martey Korley is a successful entrepreneur, with thriving businesses in Ghana and the Republic of Gambia. Despite his professional background in finance, he has demonstrated a passion for establishing companies across various industries. Notably, he founded 3 AM-CELMS Limited, an aviation company.
Martey Korley's father greatly influenced him and instilled in him the drive to achieve great things even with minimal supervision. This motivation propelled him to take on challenges in the aviation sector, although his career path led him through finance. His entrepreneurial ventures and accomplishments have earned him a reputation as a well-built businessperson.
Known for his positive nature and philanthropic gestures, Martey Korley leaves a lasting impact wherever he goes. Friends and acquaintances describe him as someone who creates an enabling environment for everyone, regardless of their tribal backgrounds or financial status. His commitment to shaping minds and creating job opportunities is evident in his coaching and investment activities aimed at fostering a good working environment.
While some may find his sanguine temperament intimidating, Martey Korley's charisma and positive influence have garnered him admiration from many. His contributions to society extend beyond business, as he actively engages in philanthropic endeavors.
In conclusion, Clifford Martey Korley's journey as a chartered accountant, entrepreneur, and philanthropist showcases his unwavering commitment to success and creating positive change. With his focus on shaping minds, fostering a supportive work environment, and making a difference in the lives of others, he continues to leave a mark on the business and social landscape.
Politics
He is a member of the New Patriotic Party and was the second vice chairman of the Teshie constituency
THANK YOU for constantly reading stories on MyGhanaMedia.com,  news publishing website from Ghana. Kindly like, follow, comment and SHARE stories on all social media platforms for more entertaining updates!
Source:  MyGhanaMedia.com

There are four types of content published on MyGhanaMedia.com daily: curated content; syndicated content; user-generated content; and original content.
Send your news stories to my[email protected] and Chat with us via WhatsApp on +233 200818719