Management of the Ghana Water Company Limited (GWCL) has announced that there will be an interruption in water supply to some parts of the Greater Accra Region from Thursday, April 22, to Monday, April 26.
According to a press statement, the affected areas in the eastern part of the capital include Afienya, Apallonia, Gbetsele, Ashiaman, all communities in Tema (Community 1 to 25), Prampram, East Legon Trasaco, Adjei Kojo, Free Zones enclave, Coca Cola, among others.
The shortage is expected to last for five days to enable "engineers to replace two hundred meters of a weak session of the main 42-inch transmission pipeline from Kpong to Tema, around Gbetsele junction."
This challenge, according to GWCL, is causing the company to lose several volumes of water daily and consequently having a serious impact on the volumes available for consumption.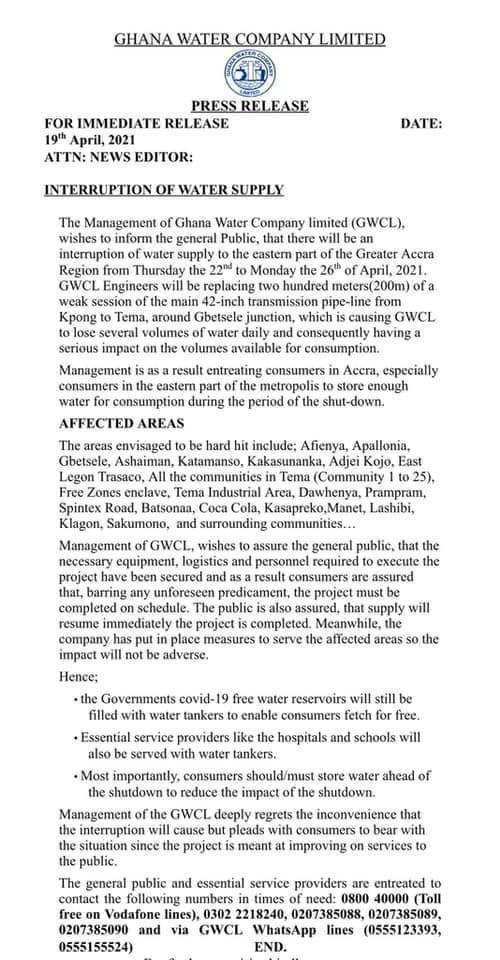 In view of this development, the company has indicated that government's Covid-19 free water reservoirs will be filled and can be fetched for free to lessen the impact the interruption will have on residents in these areas.
Also, "essential service providers like the hospitals and schools will also be served with water tankers."
Despite these interventions, Ghana Water Company Limited is encouraging persons in the affected areas to store water ahead of the move.
"Management is as a result entreating consumers in Accra, especially consumers in the eastern part of the metropolis to store enough water for consumption during the period of the shut-down," it stated.
Meanwhile, it has given the assurance that logistics needed to rectify the challenges identified have been procured and personnel would ensure the project is completed on schedule.
It also indicated that water supply would commence immediately after the said project is completed.
"Management of the GWCL deeply regrets the inconvenience that the interruption will cause but pleads with consumers to bear with the situation since the project is meant at improving on services to the public," the communiqué concluded.
Source: MyJoyonline.com