The CEO of Floodlight Media Network, Augustine Acquah, popularly known as CASHMOO has finally informed the Opinion Leaders, Elders, and Traditional Leaders of Anansu, Wurubegu Kwabena Kwa Electoral Area in the Atwima Mponua District of his Intention to Contest for the position of Assemblyman in the upcoming District Assembly Election in December.
In his Meeting with the Traditional leaders on Wednesday 2nd August 2023, when he lead the Delegates from MISSION GHANA an NGO to prospect a site where he wants to do a Water project for Anansu Community.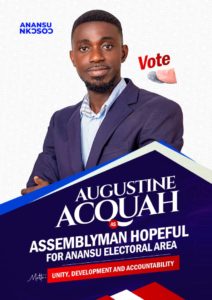 He disclosed that his decision to Contest was taken after Prayers, Reflection, and Consultation with several People in the Community that it is time for the Anansu Electoral Area to get a Leader who can Lobby for development and also project the Anansu community to Attract Investors of which he is the right man for the job.
In his Conversation, he Promised the Elders to believe in him and support him because the development of Anansu is his Priority and major concern.
Acquah Augustine is a Young Multiple Award Media Entrepreneur in Ghana who strives to bring the good works of people to the limelight.
THANK YOU for constantly reading stories on MyGhanaMedia.com,  news publishing website from Ghana. Kindly like, follow, comment and SHARE stories on all social media platforms for more entertaining updates!
Source:  MyGhanaMedia.com

There are four types of content published on MyGhanaMedia.com daily: curated content; syndicated content; user-generated content; and original content.
Send your news stories to my[email protected] and Chat with us via WhatsApp on +233 200818719