The University of Professional Studies,(UPSA) Accra, is urging the public to disregard reports that two female students have been expelled from the institution's hostel for engaging in lesbianism during a threesome.
The school in a press release issued today and signed by its Registrar, Dr Koryoe Anim Wright said no such report on the alleged incident was before the management of the school.
The release also suggested that the public notice which communicated the said expulsion of the students did not follow the approved procedure for communicating such decisions.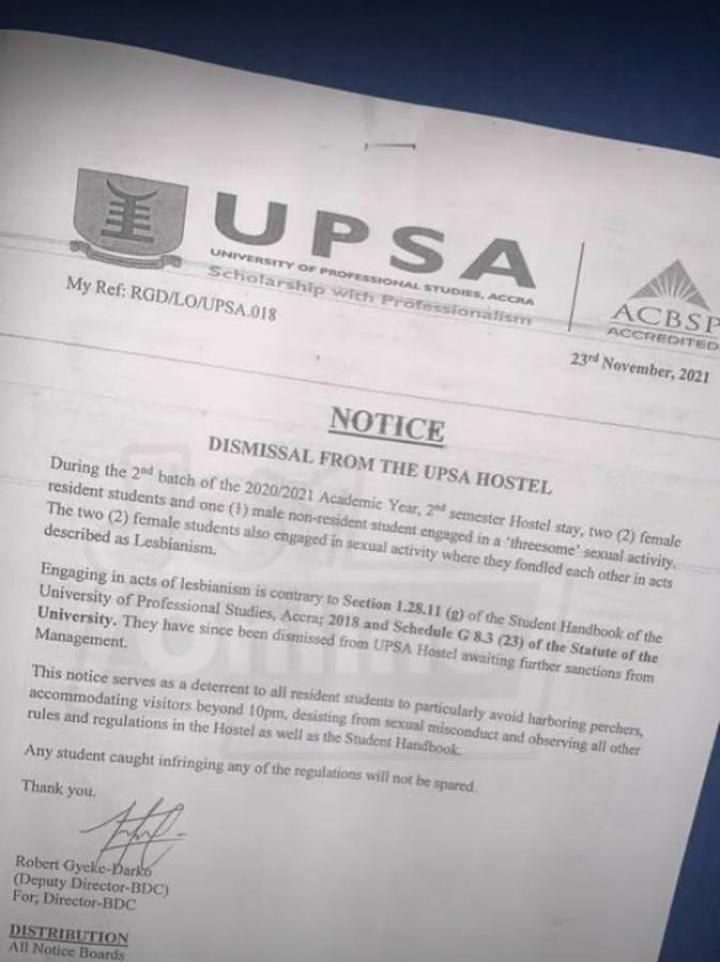 "The Vice-Chancellor of UPSA is the Chief Disciplinary Officer, and all decisions taken by the Vice-Chancellor are communicated through the Registrar," the release said
"Any disciplinary communication that does not follow the above procedure is not authorized by Management and should therefore be disregarded".
"The University further states that no disciplinary report on the alleged incident is before Management for final decision. Members of the Public are therefore advised to disregard the story".
? PRESS RELEASE: ALLEGED EXPULSIONS AT UPSA HOSTEL pic.twitter.com/aB61x5JdUn

— University of Professional Studies, Accra (UPSA) (@UPSAGhana) November 24, 2021
Read the full statement below:
Source: MyGhanaMedia.com

Disclaimer: MyGhanaMedia is not responsible for this report and its content.There are four types of content published on MyGhanaMedia daily: curated content; syndicated content; user-generated content; and original content.