One of the #FixtheCountry Movement conveners, Oliver Barker-Vormawor, has been arrested by operatives from the National Security at the Kotoka  International Airport (KIA).
Felicity Nelson, who confirmed this on her Facebook Live, said the Cambridge University PhD student was picked up upon arriving from the United Kingdom on Friday evening.
"Oliver Barker-Vormawor arrived at the KIA around 4 pm [on Friday], and around 5.20 pm, he sent a message to one of his family members that some security personnel had arrested him.
"It has been nearly six hours since anyone heard from him. We don't know where he is, we have tried the Airport Police Station and National Security Head Office, but could not find him there…" she said.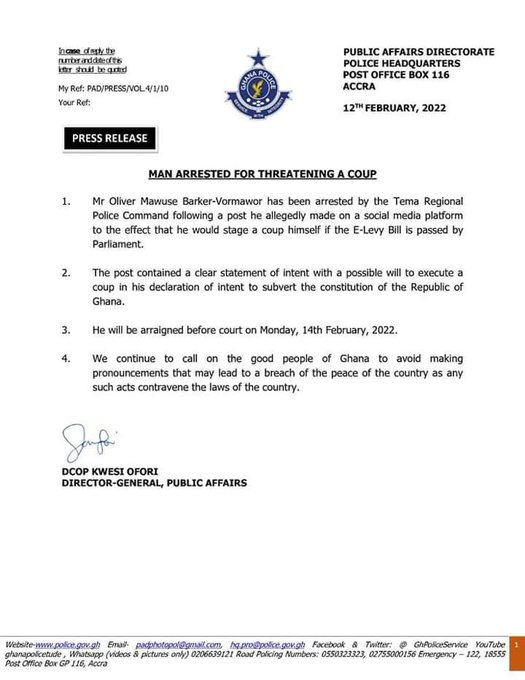 She said it is baffling how the officers can whisk someone away at a safe place as the KIA.
Baker-Vormawor has been leading a movement to get the government to tackle the country's problems.
"One thing we do know is that these are state officials, and we all need to be worried about that [their action] because this is how the state abuses its power," she said, citing the example of Citi FM journalist Caleb Kudah's arrest last year.
The Movement has issued a press release chronicling the events leading to Mr Barker-Vormawor's disappearance.
The #FixTheCountry Movement is demanding the immediate release of one of its vociferous conveners.
OLIVER ALERT NO. 2

It has been over twenty (20) hours since Mr Oliver Mawuse Barker-Vormawor disappeared. His lawyers and family are still unable to confirm his location or condition. #WhereIsOliver #IAmOliver#FreeOliverNow#FixTheCountry pic.twitter.com/ILnXnhJQSC

— Fixthecountry (@Ghfixthecountry) February 12, 2022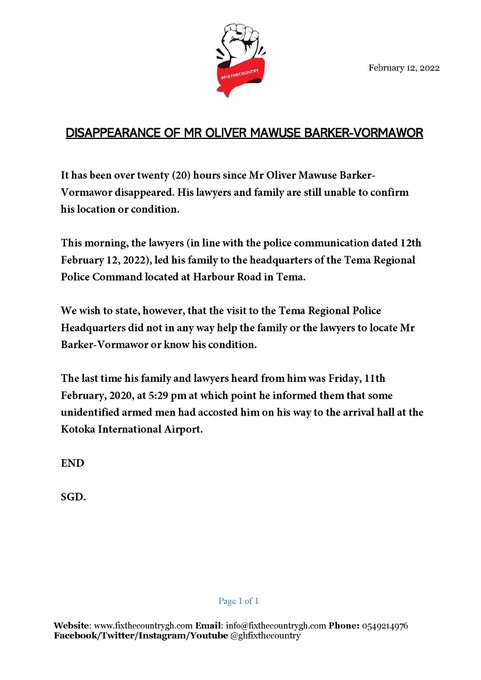 Background
It is unclear why the academic has been arrested, but sources tell Joy News it is in relation to a recent Facebook "coup" and "useless army" post.
Mr. Baker-Vormawor has been championing the agenda to get the government to fix problems confronting the country and has been commenting on many national issues.
The latest is the government's controversial Electronic Transactions Levy (E-Levy), which the opposition National Democratic Congress (NDC) MPs say they won't allow its passage into law.
Together with some Civil Society Organisations and non-partisan Ghanaians, the party staged hit the streets of Accra to protest the proposed 1.75% tax.
In videos and pictures widely circulated on the internet from the 65th birthday party of Osei Kyei-Mensah-Bonsu, a green coloured cake designed to spell the word 'E-LEVY' stole the spotlight.
Many internet users said this signaled an attempt by the Majority to pass the E-Levy bill into law.
On his Facebook page, the #FixTheCountry convener criticized this development.