Parliament is now waiting on President Akufo-Addo to assent to the Electronic Transfer Levy (E-Levy) Bill.
The Majority inapproved the E-Levy after the Minority walked out saying the tax is a tool to exacerbate the plight of the ordinary Ghanaian.
Today's decision was reached after the Consideration Stage was completed under a certificate of urgency.
The Bill was adopted at a reduced rate of 1.5% from the initial 1.75%.
The tax, which has become a subject of debate among Ghanaians, is expected to rake in close to ¢6 billion in tax revenue for the country.
The Ghana Revenue Authority (GRA) has already hinted that its structures have been revised and ready to ensure mobilization of the income.
As Parliament awaits the President's assent to move on with the legislation, here is a list of transactions to be affected and exempted when the implementation kicks in.
Transactions E-Levy will cover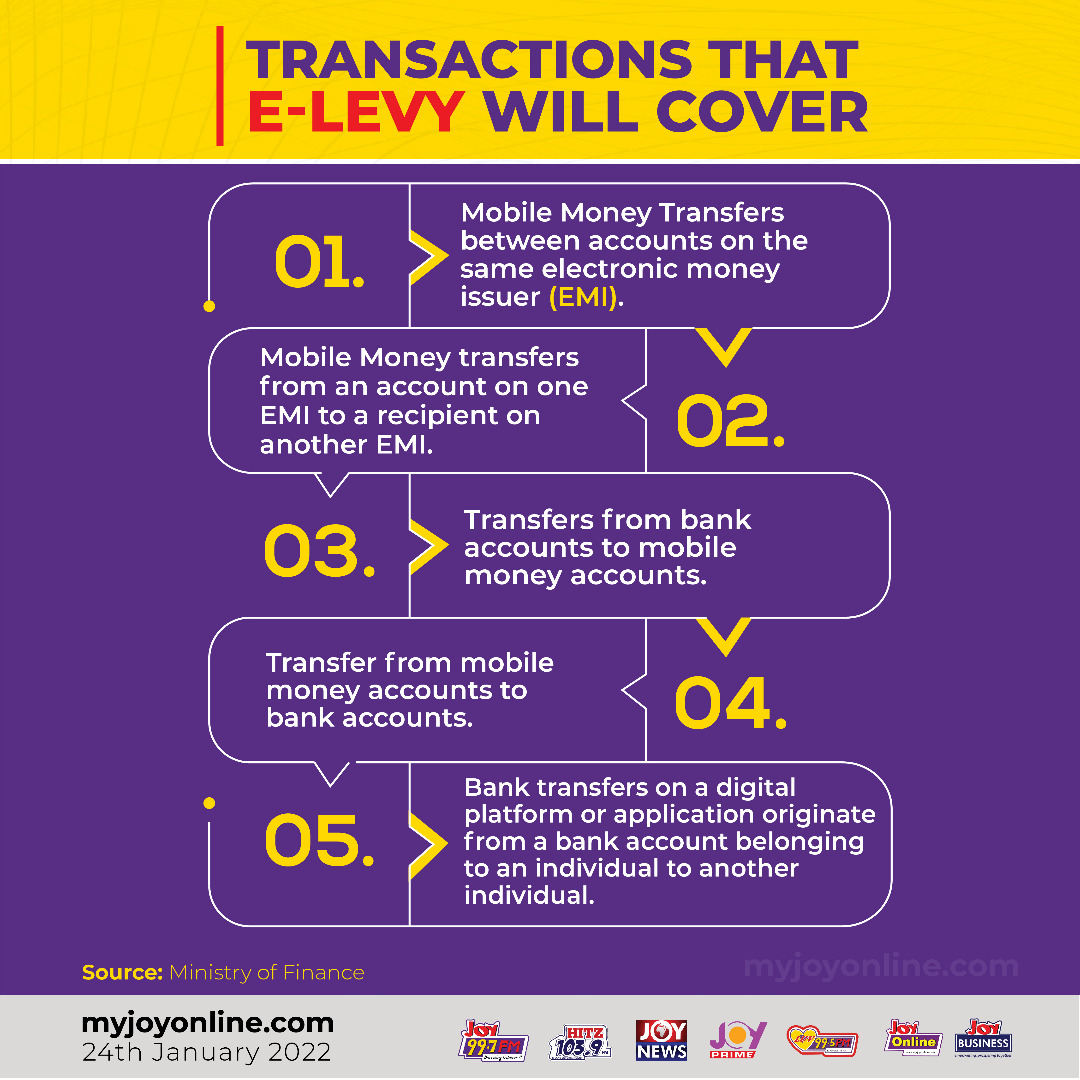 E-Levy passed: Full list of transactions to be affected and exempted
Mobile money transfers between accounts on the same electronic money issuer (EMI)
Mobile money transfers from an account on one EMI to a recipient on another EMI
Transfers from bank accounts to mobile money accounts
  Transfer from mobile money accounts to bank accounts
Bank transfers on a digital platform or application which originate from a bank account belonging to an individual to another individual
Transactions E-Levy will NOT cover
The Finance Ministry has also highlighted some scenarios where the E-Levy will not apply. They are;
E-Levy passed: Full list of transactions to be affected and exempted
Cumulative transfers of GHC100 per day made by the same person
Transfers between accounts owned by the same person
Transfers for the payment of taxes, fees and charges on the Ghana.gov platform
Electronic clearing of cheques
Specified merchant payments (that is, payments to commercial establishments registered with the GRA for income tax and VAT purposes)
Transfers between principal, master agent and agent's accounts
Disclaimer: MyGhanaMedia is not responsible for this report and its content. There are four types of content published on MyGhanaMedia daily: curated content; syndicated content; user-generated content; and original content.