Management of the Ghana School Feeding Programme (GSFP) has said the resumption of cooking services in all beneficiary schools will begin on Monday, May 16.
This, among other reasons, is to help the caterers tidy up their kitchens and prepare for the second term of the 2021/22 academic year.
A notice issued on May 9 stated that the commencement should have begun on Tuesday, May 10; however, adequate preparations ought to be made to facilitate efficient delivery of cooking services throughout the term.
"We would like to emphatically assure caterers that they would be paid the third term of the 2021 academic year and other arrears in due course. We also like to inform caterers that the feeding grant remains unchanged.
"The Ministry [of Gender, Children and Social Protection] and GSFP wish to express our profound appreciation to all our caterers nationwide for your hard work and cooperation," portions of the notice read.
Full statement by the GSFP.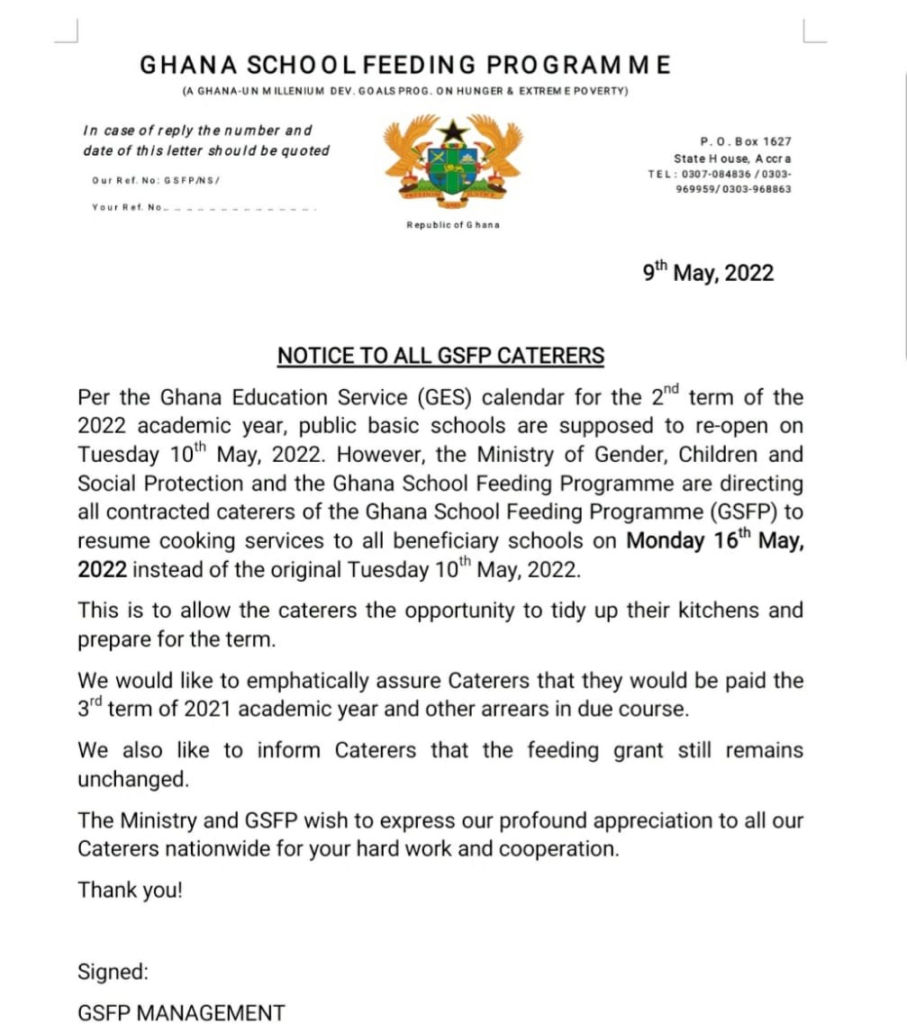 Meanwhile, the Ranking Member on Parliament's Education Committee, Dr Clement Apaak, has urged the Education Ministry and the Ghana Education Service to address challenges in some basic schools urgently.
He believes government's failure to take steps to resolve challenges facing some schools will cripple the effective delivery of teaching and learning.
According to him, "basic schools start the second term of 2021/22 academic year; however, pupils' attendance registers are yet to be received; white and coloured chalk, supplied in the first term, can only last for four to six weeks and lesson notebooks have been in acute shortage since last year."
"Markers for those using Marker Boards were never provided last term; textbooks are not available, three years into the implementation of the new curriculum," he wrote on Facebook Monday.
The Builsa South Member of Parliament (MP) also claimed that the government owes Capitation Grants for three successive academic years.
"2019/20 (two tranches), 2020/21 (one tranche) and 2021/22 (non has been paid). We can't have effective teaching and learning in our basic schools if these issues persist," he added.
Source: MyGhanaMedia.com
There are four types of content published on MyGhanaMedia daily: curated content; syndicated content; user-generated content; and original content.