Two major staff associations at the 46 colleges of education across the country have threatened to lay down their tools if government does not prioritize their welfare.
The groups are the Colleges of Education Teachers Association of Ghana (CETAG) and the Colleges
of Education Non-Teaching Staff Association of Ghana (CENTSAG).
They claim to be disappointed at "the way Government has handled issues affecting the welfare of our members in the colleges of education over the years."
Some of the issues include non-finalisation of Conditions of Service (CoS) negotiations, unilateral determination of April 2023 by the Fair Wages and Salaries Commission (FWSC) as effective date for placing First Degree Holders of CENTSAG on 17H on the SSSS, undue delay by the Ministry of Education in responding to our request for payment of compensation among others.
In the November 6, the joint communiqué gave the government five working days to
address the concerns or risk a strike.
CETAG and CENTSAG insisted that "by Friday, 11th November, 2022 if our demands have not
been met, we shall reactivate our indefinite strike actions which we suspended on January 24 and
April 14, 2022 respectively."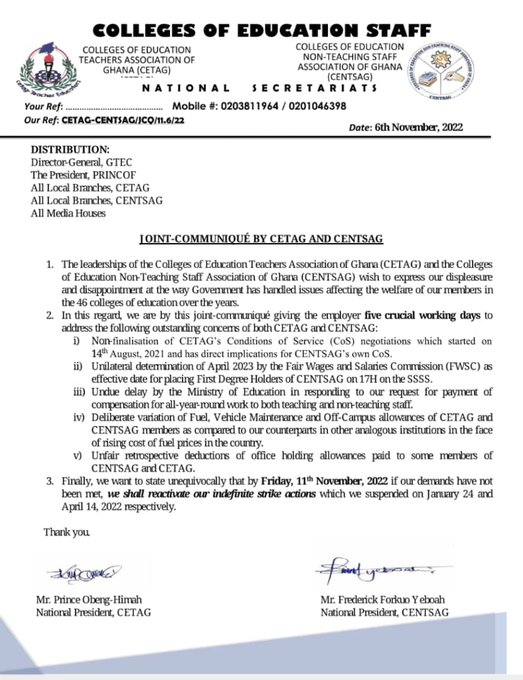 Teachers strike
Meanwhile, three striking Teacher Unions have resolved to continue their ongoing industrial action after an inconclusive meeting with the Ministry of Employment and Labour Relations.
The leadership of the Unions – the National Association of Graduate Teachers, Ghana National Association of Teachers and Coalition of Concerned Teachers Ghana- declared a strike on Friday, November 4, 2022.
The industrial action comes after the expiration of an ultimatum the Unions gave government to rescind its decision on the appointment of Dr Eric Nkansah, the new Director-General of the Ghana Education Service.
Following the ultimatum, the Ministry of Employment and Labour Relations called the Unions to a meeting on notice of the strike on Friday, November 04, 2022.
The meeting was inconclusive and was thus rescheduled to Monday, November 07, 2022.
The Reverend Isaac Owusu, President of the Ghana National Association of Teachers, said they were hoping to have a favourable response on Monday, November 07, 2022.
He said they would report to their members on the meeting outcome as they await the next meeting on Monday.
Rev. Owusu stressed that they were hopeful that their concerns would be considered.
Mr Bright Wireko-Brobbey, Deputy Minister of Employment and Labour Relations, said the Ministry was hopeful that the matter would be settled amicably.
He urged the Unions to call off the strike as they engage.
Thanks for reading from MyGhanaMedia.com as a news publishing website from Ghana.
Source:  MyGhanaMedia.com

There are four types of content published on   MyGhanaMedia.com daily: curated content; syndicated content; user-generated content; and original content.
Are You Suffering From Weak Erection, Low Libido, Premature Ejaculation Or Infections? – Get M-Plus No
  Maccun Plus (MPlus) is for men and women as a natural aphrodisiac with no side effects
Just contact the number below for M PLUS HONEY.
Send your news stories to my[email protected] and Chat with us via WhatsApp on +233 200818719