The Colleges of Education Teachers Association of Ghana (CETAG) has served notice of their intentions to withdraw services effective August 1, 2023.
Their decision follows the non-compliance of the government to implement the National Labour Commission's (NLC) Arbitral Award Orders and the negotiated conditions of service since May 2, 2023.
In January, teachers at the 46 Colleges of Education across the country embarked on an indefinite strike after the Fair Wages and Salaries Commission protracted negotiations for new conditions of service for more than a year.
The industrial action was eventually called off following interventions by the National Labour Commission which subsequently saw the introduction of compulsory arbitral orders for new conditions of service for CETAG.
"Following the NLC's compulsory Arbitral Award, the parties proceeded to sign off the negotiation agreement which has been communicated to the Ministry of Finance by the FWSC since 26th May, 2023 for approval and implementation," the statement read.
However, the agreed negotiations between the two parties have since not materialized despite several letters of notice to the Ministry of Finance.
The Association says the Ministry of Finance has 'deliberately prolonged' implementations of the agreements.
"Surprisingly, the MoF has refused to act on FWSC's letter together with the NLC's Arbitral ORDERS in spite of letters to the MoF requesting immediate implementation of the negotiated agreements. Practically, CETAG members cannot continue to survive on expired 2020 CoS in this biting economy of Ghana," the statement read.
The Association says if the government fails to implement the negotiations by the close of July, they will be forced to lay down their tools until demands are heeded.
CETAG says it shall from the beginning of the 2023/2024 academic year not continue with the all-year-round academic calendar, describing the practice as "killer".
It is therefore reverting to its old system which would allow teachers to take inter-semester vacations.
"The practice is softly killing tutors. Leadership is calling on stakeholders to adopt the in-out-out-in system to let all cohorts of students remain in school and complete the academic year together to enable tutors take inter-semester break. After all, no law says all tertiary students should be accommodated on campus," the statement read.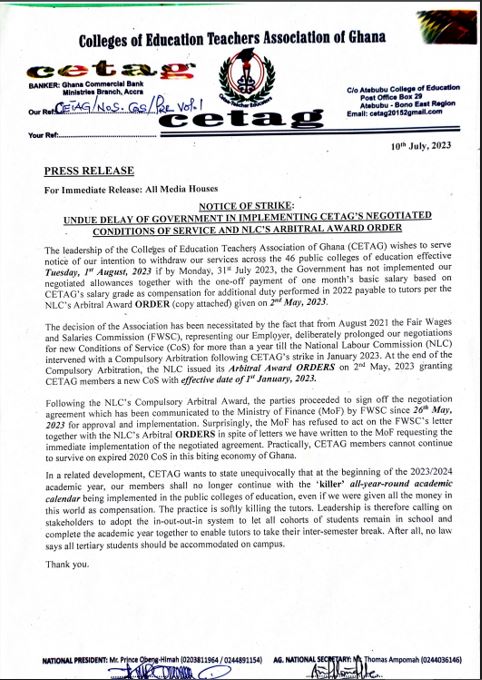 THANK YOU for constantly reading stories on MyGhanaMedia.com,  news publishing website from Ghana. Kindly like, follow, comment and SHARE stories on all social media platforms for more entertaining updates!
Source:  MyGhanaMedia.com

There are four types of content published on MyGhanaMedia.com daily: curated content; syndicated content; user-generated content; and original content.
Send your news stories to my[email protected] and Chat with us via WhatsApp on +233 200818719