The NDC Youth Wing in Bongo Constituency is quite surprised that the DCE and the NPP Constituency Executives in Bongo have ganged up and wickedly hoarded farm inputs worth thousand of Ghana cedis meant for farmers in our constituency for their selfish interest.
According to a press release signed by the Bongo Constituency Youth Organizer of the NDC, Alfred Awuni, the items which were bought by public funds from the District Assembly included; thousands of fertilizer bags, thousands of cutlasses, Wellington boots and hundreds of boxes of weedicide respectively
These items according to the distribution list sighted, were meant for over Twenty Thousand (20,000) farmers in the Constituency.
Those who were to benefit from the items included:
(i) Fifty (50) farmers in each of the one hundred and twenty- three(123) polling stations across the constituency.
(I) Clergyies
(iii)Traditional Authorities
(iv) Assembly Members,
(V) Identifiable farmer groups
(Vi) Party executives of the the ruling government
Mr Awuni further added that they deem it quite wicked and unfortunate that in spite of all the challenges that our farmers go through to get farm inputs for farming activities as a result of hikes in inflation occasioned by bad governance , the apparatchiks of the ruling government in the constituency will hoard these items and obviously share it among
themselves as usual
This action is deemed a threat to our national security and a slap in the face of Probity and Accountability and good governance especially where unemployment and food insecurity is unprecedentedly on the rise.
He indicated that the NDC is becoming over alarmed the nature in which corruption is becoming as usual and reverence by this government
"We therefore call on state investigative bodies to investigate the matter and bring it to it's logical conclusion" he added.
Attached is the distribution list indicating how the farm inputs were to be distributed list.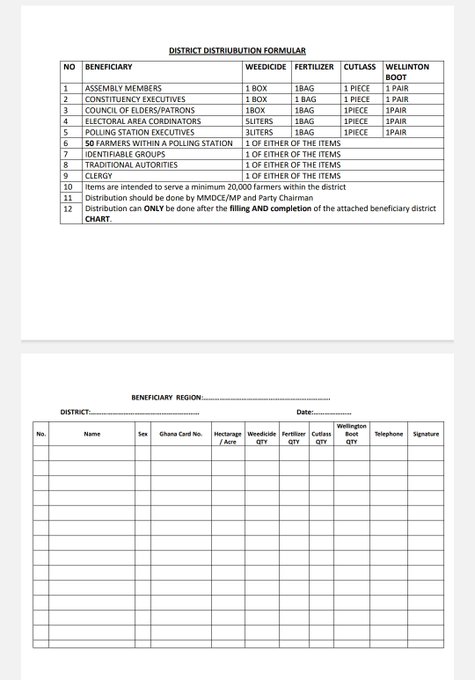 THANK YOU for constantly reading stories on MyGhanaMedia.com,  news publishing website from Ghana. Kindly like, follow, comment and SHARE stories on all social media platforms for more entertaining updates!
Source:  MyGhanaMedia.com / Major Apibire – Northern Region

There are four types of content published on MyGhanaMedia.com daily: curated content; syndicated content; user-generated content; and original content.
Send your news stories to my[email protected] and Chat with us via WhatsApp on +233 200818719