The Member of Parliament for North Tongu Constituency and and Ranking Member, Committee on Foreign Affairs,  Samuel Okudzeto Ablakwa has fired back at the Presidency for its response to his recent criticism of Nana Addo Dankwa Akufo-Addo's "expensive" flight to Belgium and Rwanda.
The lawmaker had observed that President Akufo-Addo had gone for a chartered flight after flying commercial on his last two trips.
The National Democratic Congress (NDC) MP said the President's flight to Kigali was more luxurious and more expensive than the previous one he has hired.
"This luxury monster is costing the Ghanaian taxpayer €20,000 an hour," he wrote on Facebook on Friday, June 24.
Ghana's Presidency confirms its latest €20,000 an hour ACJ319 D-Alex ostentatious chartered jet in a statement signed by Mr. Eugene Arhin.

Here's my full response: pic.twitter.com/FTqnDAZ4Zz

— Sam Okudzeto Ablakwa (@S_OkudzetoAblak) June 24, 2022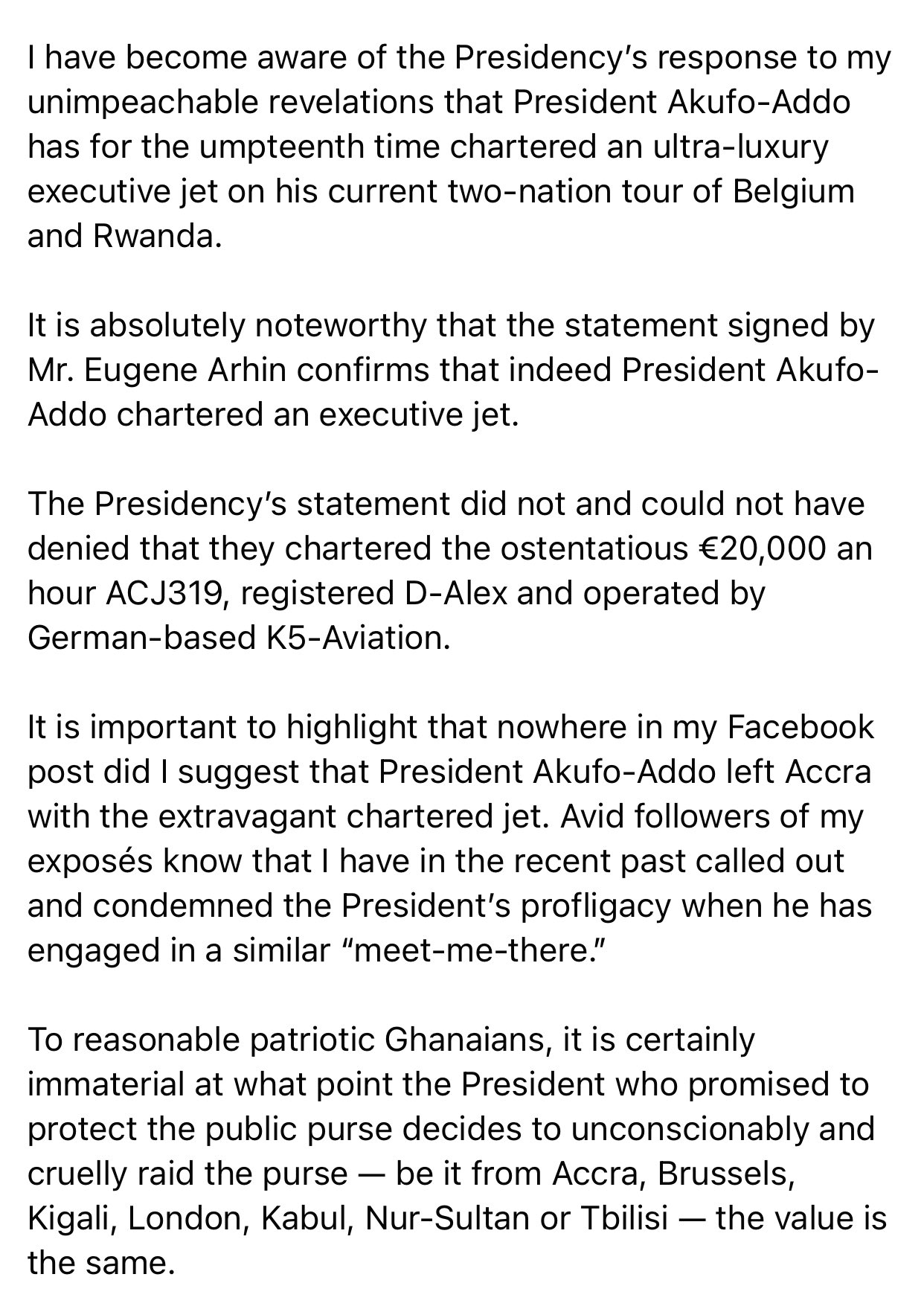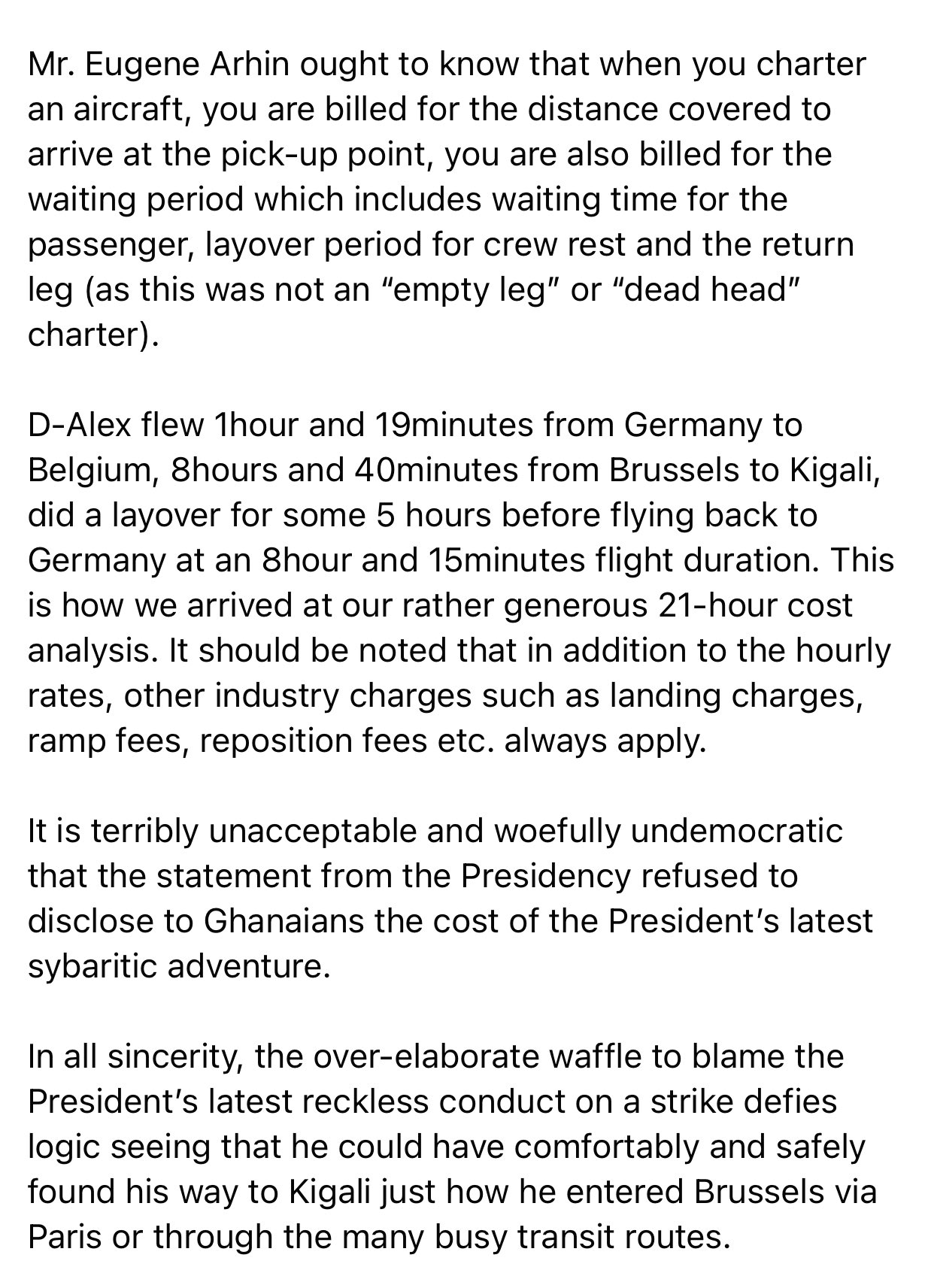 But the Presidency responded later in the day by indicating that under the circumstances – one of which was a strike action by workers at Brussels Airport – the President had no option than to charter a flight to Rwanda to make it in time for the 26th Meeting of Heads of Government of the Commonwealth of Nations.
The NDC MP, who is also the Ranking Member on the Foreign Affairs Committee in Parliament, responded by stressing that President Akufo-Addo's promise to protect the public purse has fallen flat given his choice of transport.
"To reasonable patriotic Ghanaians, it is certainly immaterial at what point the President who promised to protect the public purse decides to unconscionably and cruelly raid the purse – be it from Accra, Brussels, Kigali, London, Kabul, Nur-Sultan or Tbilisi – the value is the same," he stated.
He said irrespective of how the terms of the hire is, customers are billed per hour for chartered flights.
"D-Alex flew 1hour and 19 minutes from Germany to Belgium, 8hours and 40minutes from Brussels to Kigali, did a layover for some 5hours before flying back to Germany at an 8hour and 15minutes flight duration.
"This is how we arrived at our rather generous 21-hour cost analysis. It should be noted that in addition to the hourly rates, other industry charges such as landing charges, ramp fees, reposition fees etc. always apply."
He emphasised that Ghana has a "functioning presidential jet in pristine condition" and that other heads of state with less inferior and older jets "have kept faith with their presidential air crafts".
Therefore, he maintained that "there can be no justification whatsoever for the grave insensitivity of President Akufo-Addo".
Source:  MyGhanaMedia.com
There are four types of content published on MyGhanaMedia daily: curated content; syndicated content; user-generated content; and original content.