The Member of Parliament for Akim Oda, Hon. Alexander Akwasi Acquah, has toured some Basic Education Certificate Examination (BECE) centers in the Birim Central Municipality to offer words of encouragement to the candidates.
The Legislator was accompanied by the Birim Central Municipal Chief Executive, Ms. Victoria Adu, the Municipal Director of Education, Mrs. Esther Quaye-Sowah, some officials of the Municipal Education Department, as well as other officials from the Assembly.
There are four (4) main centers in the municipality, which are: Oda Senior High School, Attafuah Senior High Technical School, St. Francis Senior High Technical School, and Oda Ridge Experimental.
One thousand, six hundred and sixty-nine (1,669) students are registered to write the exams in the class. The Candidates consist of eight hundred and three (803) Males and Eight hundred and sixty-six (866) females.
OBSERVE
The Akim Oda Legislator, Hon. Alexander Akwasi Acquah, urged candidates writing this year's Basic Education Certificate Examination (BECE) to remain calm as they start their final exams.
According to him, the papers were within their standards; hence, they should not panic.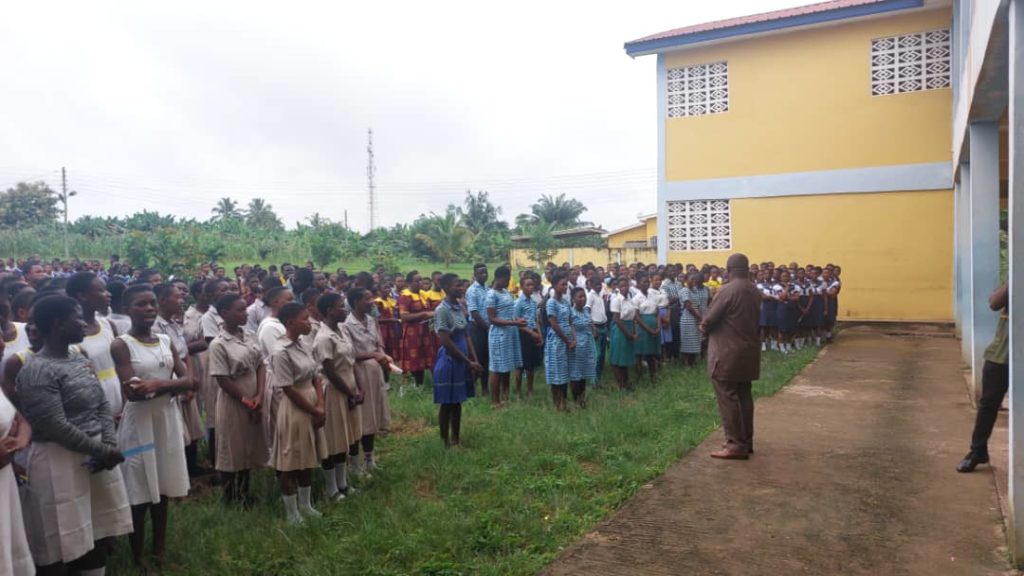 The Legislator gave the advice when he interacted with some candidates at the various centers at Oda Senior High, Attafuah SHS, and St. Francis SHS to motivate them so they could perform better.
He reminded the candidates to read through their questions thoroughly and ensure they provide accurate answers, adding that they should go by the rules and regulations governing the examination.
"I want you all to face the examination with a can-do spirit; do not be afraid. Just remain calm and revise your study notes between now and during the examination period," he said in an interview with MyGhanaMedia.com at Attafuah SHS.
Hon. Akwasi Acquah, in a goodwill message to the candidates, said: "I am very optimistic that success will surely crown your efforts."
He reminded the students that the country's future depended on them, hence the need to take their studies seriously.
He cautioned them against examination malpractices and told them to perform to the best of their ability to benefit from the Free Senior High School Policy.
BECE CANDIDATES RECEIVE SUPPORT
On Thursday, August 3, 2023, all Basic Education Certificate Examination (BECE) candidates in the Birim Municipality received educational materials (mathematical sets) from the MP to help them in a successful examination.
Alexander Akwasi Acquah, Member of Parliament (MP) for Akyem Oda, has previously funded a super mock test for all 1,669 final-year students from 41 public and private junior high schools (JHS) before the ongoing Basic Education Certificate test (BECE).
The super mock examination was aimed at putting the candidates in good shape to excel in the BECE so they could gain admission to senior high schools of their choice.
On her part, Hon. Victoria Adu, Birim Central Municipal Chief Executive, wished the candidates the best of luck and asked for God's protection and guidance for them throughout the examination period.
She assured the candidates that the Assembly had put in place the necessary measures to ensure that they wrote the examination in a serene atmosphere so they could enjoy the free Senior High School program initiated by the government to help them accomplish their dreams and aspirations.
She reminded the students of the purpose behind their parents' investment in their education, urging them to excel and make their families proud.
The BECE begins on Monday, August 1, 2023, and ends on Friday, August 11, 2023.
THANK YOU for constantly reading stories on MyGhanaMedia.com,  news publishing website from Ghana. Kindly like, follow, comment and SHARE stories on all social media platforms for more entertaining updates!
Source:  MyGhanaMedia.com

There are four types of content published on MyGhanaMedia.com daily: curated content; syndicated content; user-generated content; and original content.
Send your news stories to my[email protected] and Chat with us via WhatsApp on +233 200818719